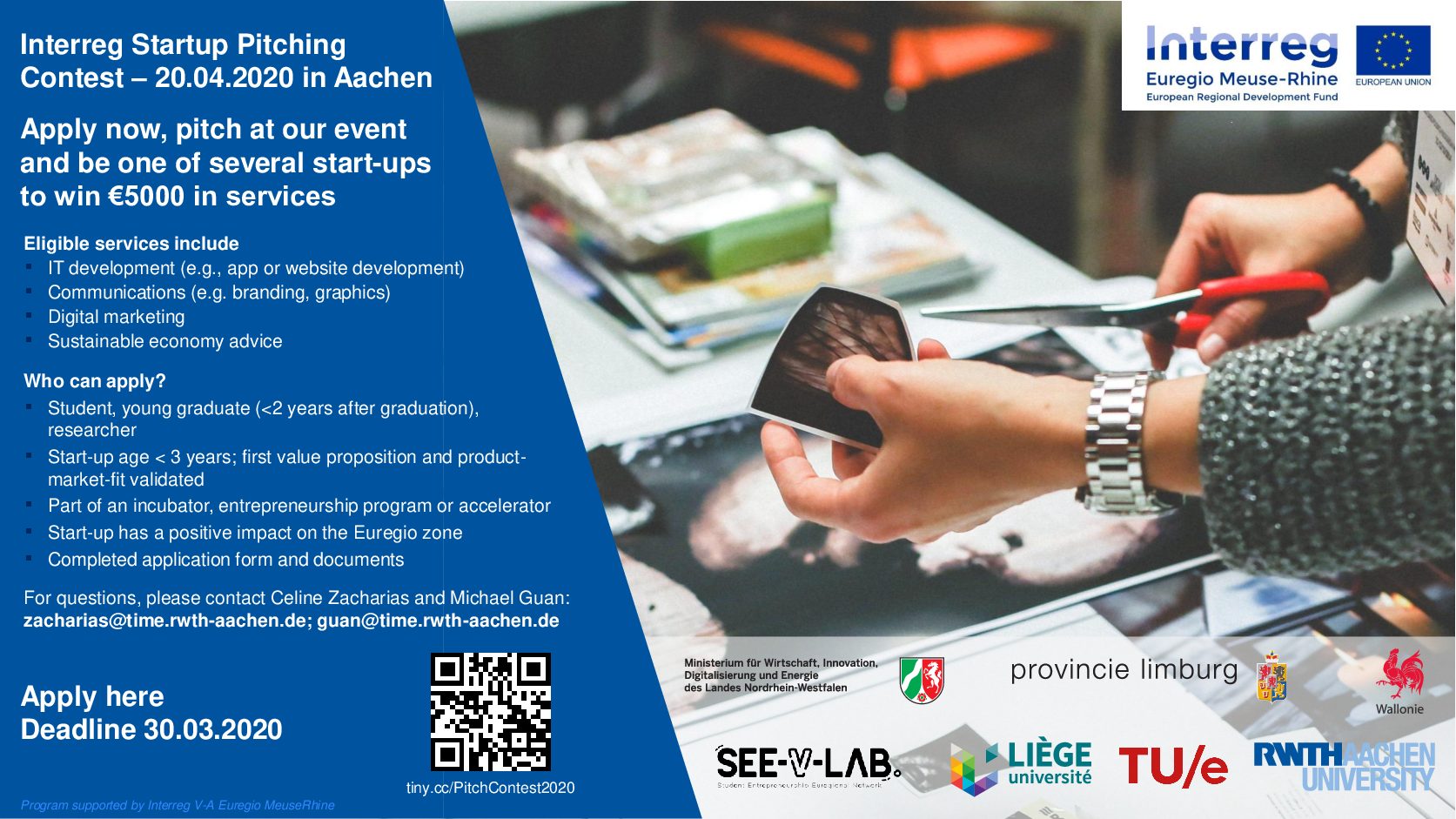 Description
SEE-V-Lab – Expertise Grant
You are a student, a young graduate or a researcher?
You have an entrepreneurial project and you have already validated your Value Proposition and have a first version of a product market fit?
You are supported by a support structure (incubator, accelerator)?
You need a specific expertise to go further?
Apply now to win €5000 (VAT incl.) worth in services!
Eligible services include:
▪ IT development /platform (e.g., app or website development)
▪ Communications (e.g. branding, graphics)
▪ Digital Marketing
▪ Sustainable Economy advice
How to apply?
Together with your coach, pick out one of the 4 sectors (only one grant/one sector/project) and fill in your application form.
Need more details + application form?
Contact Pauline De Wispelaere (pauline.dewispelaere@venturelab.be)
Deadline for application:
March 30th, 2020
Details about the sectors
| | |
| --- | --- |
| Communication (advise, creation and/or implementing about creating a company brand and graphic charter, establishing an effective, relevant and international communication strategy, creating communication support (for example: using several languages), developing a website and/or communicating about events) | Digital Marketing (strategic advice, Individual training and/or Implementation) |
| IT development and platform (advise, creation and/or implementing about IT advice (diagnostics), analysis and proposals/outlines of IT solutions, integration of IT solutions, IT development: online platform, mobile apps, e-business solutions, etc, and/or adaptation of IT platforms to the EUREGIO market | Sustainable economy (advise, creation and/or implementing about how to promote societal and environmental innovation through the project and being empowered to do so) |
Met de steun van het Europees Fonds voor Regionale Ontwikkeling. De Europese Unie investeert in uw toekomst..
Avec le soutien du Fonds Européen de Développement Régional. L'Union Européenne investit dans votre avenir.
Gefördert durch den Europäischen Fonds für regionale Entwicklung. Die Europäisch Union investiert in Ihre Zukunft.